The 'Bent Pyramid' at Sakkara, Egypt
Well, The History Channel has done it again… pissed me off to the point that I actually (and utterly futilely) yelled at my TV! If 'Prophecies of Nostradamus' wasn't bad enough… or 'Mayan Doomsday 2012′ wasn't puerile enough nonsense… Now it's a series of programs about 'Ancient Aliens' that purports to be 'scientific' that finally prompts me to spew my venom in the form of words. I have NOTHING against speculation, I do it all the time and enjoy others' as well. But there is a BIG difference between speculation and hypothesis, and an even larger one between hypothesis and scientific theory…
Anyway, I'll focus on one favourite example of 'superhuman' influence… PYRAMIDS:
Let's start with the first Wonder of the ancient World: the great Egyptian pyramids. Purveyors of the 'ancient astronaut' idea love to point to the precision and sheer massive scale of the pyramids on the Giza plateau. Surely, mere men could not have dressed and moved 20 ton rocks and piled them atop one another without godly/extraterrestrial assistance… could they? The great pyramids are indeed impressive, even after 5000 years! They are nearly perfectly aligned to true North-South, their sides are almost perfectly equal and the Great Pyramid of Khufu (or Cheops) stands nearly 500 feet high… the tallest man-made structure in the world until the Eiffel Tower!
Had the pyramid complex at Giza appeared suddenly and without prelude, I too might be tempted to believe that something 'supernatural' or 'other-worldly' was at work. But this is emphatically NOT the case! For centuries, Egypt's rulers were buried in simple 'mostabahs' (Arabic for 'bench'), basically just big slabs of mud bricks (adobe) and later, stone. The first 'pyramid' was the tomb of Pharaoh Jozzer, built at Sakkara by the famous commoner/engineer (and star of countless 'mummy' movies) Imhotep. What he did was to build a slightly smaller mostobah ON TOP of a mostobah, and then put another one on top of THAT. The basic concept of a 'pyramid' had been born!
From there, Imhotep attempted the first 'true' pyramid, but was met with disaster when it partially collapsed in mid-construction due to an over-steep vertical angle. The project was salvaged by leaving the bottom part as it was, and completing the construction at a shallower angle. Thus we have the dramatically 'Bent Pyramid' (pictured above). But Mr. Imhotep was a smart guy who learned from his mistakes. So he tried yet again using the reduced angle (~51 degrees) he'd used to complete the Bent Pyramid and the third time proved indeed to be the charm. Voilá! He had created the first 'true' pyramid… the still beautiful Red Pyramid (see below). A masterpiece! Now the basic design was 'set in stone' as it were, and the great pyramids at Giza are simply scaled up versions of the Red Pyramid. Covered in limestone to 'fill in' the steps, these massive gleaming white constructions surely must have inspired even greater awe than they still do today.
So why go into tedious detail about how the great engineer Imhotep and his successors built the early pyramids? It is simply to illustrate that there was a clear step-wise evolution in the design and construction of these impressive monuments. One would guess that 'alien visitors' capable of building interstellar spacecraft would KNOW how to make a proper pyramid and would NOT have to go through such progressive refinements to finally get one right! In fact, to me, such an idea is laughable. The evidence clearly shows exactly how lowly humans learned how to build things… slowly and painfully perhaps, but indubitably ALL BY THEMSELVES. No 'godly/alien' assistance was required!
Another 'proof' of 'alien intervention' pointed to by believers is the fact that 'pyramid' type structures show up all over the world… from sub-Saharan Africa to Babylon to Asia and pre-Columbian America. Why would peoples so geographically widely separated and without intercultural contact build the same sorts of monuments? Surely (so ancient astronaut proponents say) there was a common inspiration to build structures of such similar shape?
Some images of pyramids from around the world:
Temple of Kukulkan at Chichenitzá, Mexico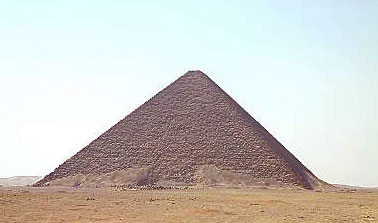 The Red Pyramid at Sakkara, Egypt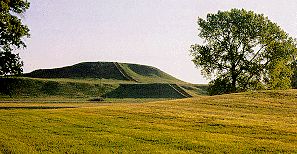 Remains of pyramid at Cahokia, Illinois, USA
Pyramid (aerial view) at Xianyang, China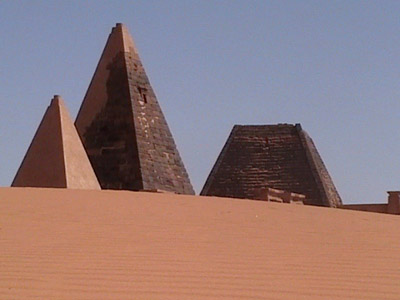 Pyramids in Sudan
This argument is even more easily refuted than is the one above about the Egyptian pyramids. In fact, any toddler playing with blocks can answer it… even if they couldn't verbalise it very well. If you want to build something big, and you don't want it to immediately fall down, and you don't happen to have massive steel beams and reinforcing rebar handy… what shape are you going to build? Need I finish?… why a PYRAMID of course! The only stable large construction even possible before modern techniques and materials were developed.
Lastly (and I'm hesitant to even mention this one), what about so-called 'Pyramid Power'? You know, how razor blades stay sharp and steaks stay fresh for weeks when placed under a (ooooh, it must be properly 'aligned') pyramid shape… As a carnivore who enjoys the occasional steak, I'll just say that I wouldn't TOUCH a piece of meat that had sat out for weeks (pyramids or no!) ICK! Well, this of course has been disproven hundreds of times… it ranks right up there with Uri Geller's 'mind-powered' spoon bending tricks. It's complete bunk of course, but it goes to show how very gullible we humans can be!
Why Sky, you may ask… go on about pyramids so? What's your point? My point is THIS:
There is an insidious aspect to these so-called 'theories' that is too rarely pointed out. In nearly all cases, the Ancient Aliens/Gods proponents state flatly that bronze age humans simply 'could not have' constructed the various artifacts we see, at least not without substantial assistance from superiour beings who for some reason deigned to help or even directed the construction of these megalithic structures…
We tend to look at ancient peoples as primitive and somehow not as 'smart' as we are today. This is a complete fallacy. Since well before the very first towns were built, ancient peoples were completely modern Homo sapiens, with ALL of the intelligence, capabilities, idiocies and other shortcomings that we possess today. Our fancy technologies that make us feel oh so superiour have been built up slowly and painfully over many millenia with WRITING being perhaps the most important because it allowed us to store knowledge accurately and pass it into the future intact.
HUMANS conceived of and built ALL of these structures BY THEMSELVES and we should all rightfully be proud of their achievements. To believe that gods or aliens are out there 'watching over' us and will somehow come to our ultimate rescue is wishful thinking of the worst sort. WE must find our OWN salvation. WE must clean up our OWN messes and WE must built our OWN future!
For better or worse, we're on our OWN kids, and I say that it's high time we got ON with it!